Benefits of Our Addiction Treatment in Tennessee
Those who participate in addiction treatment can benefit greatly within all aspects of their lives, especially when they actively participate in their treatment. Allowing a substance use disorder to continue will only cause the individual to suffer repeated consequences of that use, as well as put his or her life in constant jeopardy. However, when receiving our addiction treatment services, clients can benefit in a number of different ways, including but not limited to, the following:
Ending the physical act of abusing substances, which can help prevent any further physical and/or psychological damage from occurring

Participating in a professional addiction treatment program has proven to reduce the rate of relapse, meaning that an individual who obtains addiction treatment has less of a likelihood of relapsing

Being able to reach out for support at any given moment through those who are not friends and family, but also through our addiction treatment center's alumni program

Getting the appropriate mental health care needed to prevent future relapse, develop proper coping skills, and learn how to manage existing conditions
Depending on one's involvement with our addiction treatment services, the benefits of participating in a treatment program can be endless and life-lasting.
Are You Or A Loved One Struggling?
Treatment Services We Offer
Hundreds of people who had a substance use disorder have benefitted from our Tennessee addiction treatment services that are geared towards helping them overcome their active addiction and enter into a long-term period of recovery. From the moment they enter into a treatment program to the second they transition back home, clients will work on their sobriety by partaking in the different levels our addiction treatment services.
Every person who is struggling with a substance use disorder has his or her own needs, and not everyone is going to have the same journey in treatment. Therefore, our treatment services that are offered to clients range in intensity based on what the clients need most. Of those services are detox, residential treatment, partial hospitalization, and intensive outpatient treatment.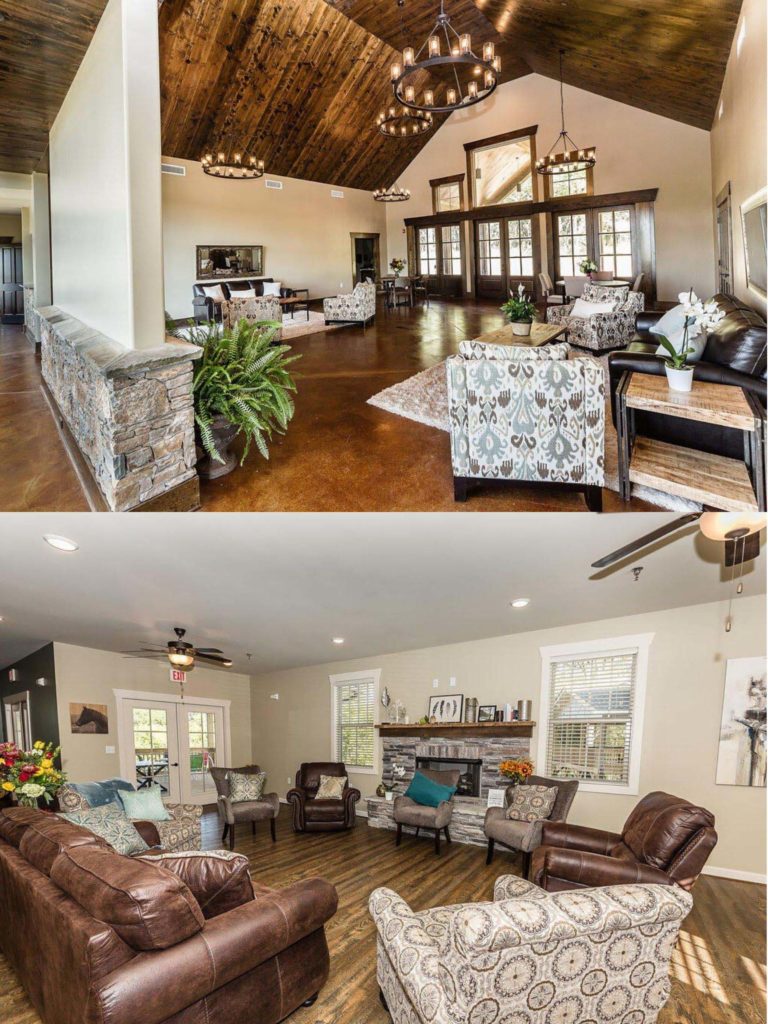 Detox
Most individuals who have substance use disorders are physically and/or psychologically dependent on the substances they have been abusing. When this is the case, individuals need to detox prior to participating in any kind of therapeutic treatment program, for if they do so while still affected by addictive substances, they will be unable to fully benefit from the program.
Detox is one of the treatment services that can help those in recovery. During this process, clients will immediately cease their substance abuse and likely begin to experience a number of withdrawal symptoms. A team of medical and mental health professionals will be regularly available to help clients navigate through this process, as it is known to be very difficult and often times overwhelming. However, once detox is completed, an individual is no longer dependent on the substances of his or her choice, allowing him or her to move forward in recovery.
Residential Treatment
Residential treatment is an excellent form of addiction treatment for someone who has repeatedly relapsed, who is struggling with a dual diagnosis, has a severe substance use disorder, or who has obtained treatment before but has never completed a program. This is because residential treatment is the most hands-on approach to addiction treatment. When enrolled in this type of care, clients will live on campus anywhere from 30, 60, to 90+ days based on their needs. They will participate in several treatment services, including therapy and detox (if necessary).
Partial Hospitalization
Many clients who receive our addiction treatment services do not need the same level of care that is offered through residential treatment but still require a strong presence of care and even medical and/or mental health services. A partial hospitalization program is a program where clients continue to reside at home or in a sober house but spend time daily at the treatment center receiving different services like therapy and other medical and/or psychological care. A partial hospitalization program usually lasts from 6-8 weeks and serves as a step-down from residential treatment.
Intensive Outpatient Treatment
Intensive outpatient treatment, another one of our many addiction treatment services in TN, is also a type of program that lasts roughly 6-8 weeks. Through intensive outpatient treatment, clients can continue to reside at home, however, will go to the facility three days per week to participate in therapy and other services deemed appropriate for their care. Intensive outpatient treatment is an ideal option for someone who has a moderate substance use disorder and/or who is unable to commit to a residential treatment program due to other responsibilities.
These addiction treatment services are some of the most common professional programs available in the nation. In addition to these types of programs, other services can include gender-specific treatment, such as women's addiction treatment and men's addiction treatment. Also, those who have completed a program can continue to obtain professional care through our alumni programming.
When Is Addiction Treatment Needed?
Addiction is a chronic, relapsing disease of the brain, meaning that in order for someone who struggles with addiction to be able to manage it, he or she must obtain professional treatment. Thankfully, there are a number of different addiction treatment services in Tennessee that can help those who are struggling with substance use disorder so that they can put a stop to actively using and risking their lives.
When someone is experiencing a substance use disorder, all areas of his or her life are touched by this disease, regardless of how mild or severe his or her addiction is. Obtaining professional addiction treatment in Nashville that offers a comprehensive approach has proven to be the best way to treat a substance use disorder, which is why it is imperative that someone who needs help gets it. However, friends and family of someone who has a substance use disorder can find it difficult to determine if he or she needs treatment and what level of care is best for him or her. And those who are struggling with substance use disorder firsthand might be even more confused about treatment, oftentimes going back and forth between thinking about asking for help and avoiding everything treatment-related.
Addiction treatment is typically needed when an individual is experiencing the following:
Deceitful, dishonest, and manipulative behaviors

Inability to uphold daily responsibilities

Problems with finances/regularly asking others for money

Continuing use even if negative consequences of the use have occurred

Mood swings that are erratic, severe, and/or come out of nowhere

Needing to increase the amount being used in order to achieve the desired effects
These are merely just some of the many various signs that someone who is addicted to one or more dangerous substances might display. However, when these symptoms are occurring, it can be critical to reach out for professional help like our addiction treatment services in Tennessee.
get the help you deserve today With JourneyPure
If you are struggling with a substance use disorder, do not allow one more second to pass you by. By reaching out for addiction treatment services in Tennessee, you can end your active addiction and begin working towards a successful life of recovery.