Our Addiction Rehab Programs in Tennessee
Addiction recovery programs are multi-dimensional, as they must help those who are dealing with the complexities of substance use disorders. There are several different treatments, therapies, and approaches that clients can obtain when ready to stop using, our Middle Tennessee addiction recovery programs can provide clients with the resources they need to get sober and develop long-term recovery.
Benefits of Journeypure's Treatment Programs
Our addiction recovery programs include several types of therapies and treatments that are designed to help those who are addicted to drugs and/or alcohol. Through each one of these therapies and treatments, clients can benefit a great deal, especially if they put all of their dedication and focus into them. Addiction recovery programs can be beneficial in a number of different ways, including the following:
Helps the client identify the underlying causes of his or her substance use disorder

Educates the client on addiction as a disease

Works with clients to help them develop a healthy self-esteem and a positive sense of self-worth

Provides clients with different options for supplemental therapies

Addresses the client's familial needs in an effort to re-establish relationships

Offers clients a sense of support and encouragement throughout the recovery process
The benefits of our recovery programs are far-reaching and life-changing. Those who participate in all that recovery programs have to offer can stand to gain a number of positive outcomes.
Are You Or A Loved One Struggling?
Components of Our Tennessee Addiction Recovery Programs
Dual Diagnosis
When someone has a dual diagnosis, it means that he or she is experiencing a substance use disorder and a mental health condition simultaneously. Our addiction recovery programs offer clients the appropriate, evidence-based care that can address both issues at the same time so that they can begin healing. Through what is known as integrated care, these clients can receive necessary medications in combination with specific forms of therapy designed to address the specific mental health condition that he or she is experiencing.
Holistic Treatment
Holistic treatment has proven to be a highly effective form of treatment for those who are attempting to recover from addiction. This specific form of treatment focuses on restoring the spiritual and emotional wellbeing of the client through activities such as yoga, art therapy, acupuncture, and more. Holistic treatment itself is not recommended as the only type of care that an individual should receive for a substance use disorder, however, it is highly recommended as a supplement to a professional treatment plan such as one offered through residential or outpatient treatment.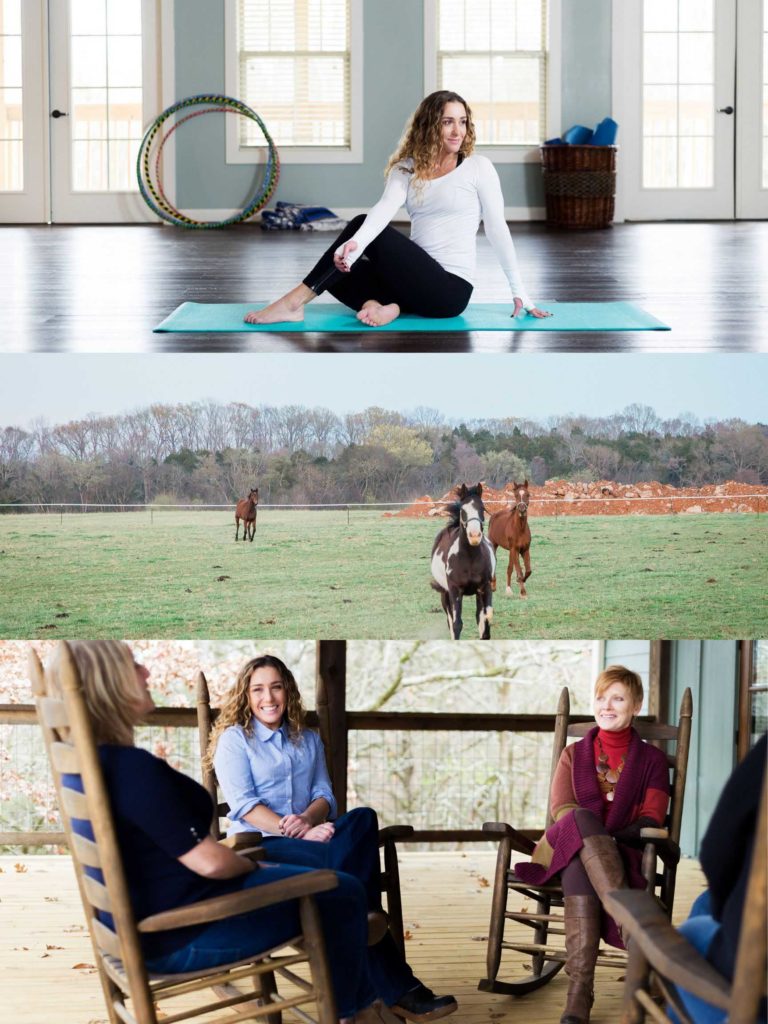 Experiential Therapy
Traditional forms of care offered through our Tennessee addiction recovery programs are extremely successful and effective in treating the many issues that accompany substance use disorders. Experiential therapy, however, is not one of those traditional therapies, as it takes clients outside of their comfort zones and puts them in situations where they can utilize things other than their voices to express themselves. For example, equine therapy (which is a form of experiential therapy) connects clients to horses through exercises that help them open up emotionally, put trust in something other than another human being, and operate in a way where he or she is not fearful of being judged. Other forms of experiential therapy include music therapy, adventure therapy, white water rafting, and more.
Individual Therapy
Within all of our addiction recovery programs, clients will participate in individual therapy. Also known as talk therapy, individual therapy brings together a client and a therapist who can work together to address the issues that the client is experiencing. Individual therapy sessions will offer a client the opportunity to discuss what issues are most pressing for him or her so that the therapist can help guide him or her to a resolution that he or she is comfortable with. This type of therapy allows clients the ability to be vulnerable and let their guards down, as they will conduct this work in a private, secure setting with a professional.
Group Therapy
Group therapy has long been included in our addiction recovery program, as it offers a plethora of benefits for all who participate in them. Group therapy sessions bring clients who are experiencing similar issues together so that they can engage in exercises with one another and grow from the interactions they have along the way. Group therapy has proven to be an excellent resource for support for those who are participating in recovery programs, which is a vital aspect of a successful recovery.
Family Therapy
The disease of addiction does not just impact the user, but it also impacts his or her family as well. Addiction recovery programs work to address those impacts by providing the client and his or her family members with family therapy. Depending on location, clients and their families can partake in sessions over the phone or in person. These sessions will focus on identifying the issues within the family, finding ways to mitigate those issues, and developing new, more effective ways of moving forward.
JourneyPure's addiction recovery programs in Tennessee also offer other services, such as virtual reality treatment, relapse prevention, behavioral therapies, and life skills therapy.
Importance of Recovery
When drugs and/or alcohol are being abused, an individual is putting his or her wellbeing in jeopardy on a regular basis. Not only is he or she running the risk of causing physical damage to his or her body, but he or she is also impacting the way in which his or her brain functions. On top of all that, he or she might start to withdraw from others, leading to social issues, as well as falling behind on deadlines and assignments at work. Relationships with family members can start to change, and there can be an uptick in financial and/or legal problems. Someone with a substance use disorder requires some level of professional treatment in order to put a stop to his or her use before he or she suffers extreme consequences.
However, participating in recovery can change an individuals' life. Addiction recovery programs include several different treatment modalities that individuals can partake in as they work towards establishing a strong foundation for recovery. Through our Tennessee addiction recovery programs, clients can stop the physical act of abusing drugs and/or alcohol, address the behavioral issues as they pertain to the substance abuse, and develop new ways to cope with stressful situations and manage life's everyday occurrences.
When a substance use is occurring, there is nothing more important than obtaining recovery, as doing so can stop an individual from reaching a point of no return
Do You Need Help?
When addicted to drugs and/or alcohol, it can be hard to see outside of the continual cycle of being high and coming down. You might not feel as though your substance abuse is as out of control as others think it is or that you need professional care to overcome the issues you are facing in your life. You might even be completely turned off to the idea of reaching out for help. However, if you are abusing substances to the point where they are impacting your life in a negative way, getting help can be the best thing for you.
So, do not wait. Contact our addiction recovery program in Tennessee right now to find out what type of treatment is the best fit for you.